Monday, November 22, 2010
QB 1: Philip Rivers Philip Rivers takes this with very stiff competition which surprisingly is coming mostly from Vick. Honorable Mention: Michael Vick, Matt Ryan, Matt Schaub

RBs 2: Frank Gore & Thomas Jones Surprisingly weak at RB. Miami still leads the way with guys like Gore/Portis/McGhee but only Gore is still in the prime of his career. Honorable Mention: CJ Spiller, Clinton Portis, Willis McGahee

TE 1: Vernon Davis Vernon Davis is a beast. If only he had a solid QB. Honorable Mention: Jeremy Shockey, Kellen Winslow, Greg Olsen

WR 2: Calvin Johnson, Andre Johnson If you have to go just two, I'll take the Johnson boys over Wayne/Nicks. But you certainly would not complain either way. Honorable Mention: Reggie Wayne, Santana Moss, Hakeem Nicks

OT 2: Bryant McKinnie & D'Brickashaw Ferguson Two 2009 Pro Bowlers with not much competition or big names in their way.

OG 2: Chris Snee & Leroy Harris The ACC is a bit week on providing NFL Guards and NFL lineman overall.

C: Jeff Saturday Nearly a perennial Pro Bowler. Honorable Mention: Dan Koppen

DE 2: Julius Peppers & Mario Williams Peppers has been amongst the best for a very very long time and Mario Williams is living up to his #1 billing. Honorable Mention: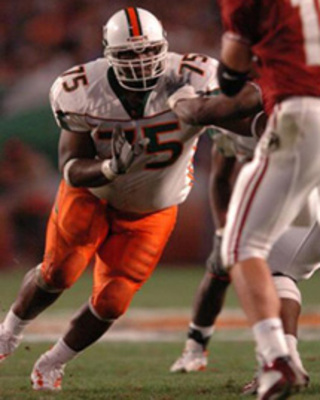 DT 2: Vince Wilfork & Kris Jenkins If Jenkins was healthy and combo'd with Wilfork, offensive lines would tremble in their shoes.

LB 3: Ray Lewis, Jonathan Vilma & Keith Brooking Surprisingly the pickings weren't nearly as bountiful as I thought they were going to be.

CB 2: Antonio Cromartie & DeAngelo Hall Hall gets picks and Cromartie is doing a solid job for the Jets. Again similarly to LB this position does not give as much as expected.

S: Ed Reed & Brian Dawkins Safety is a different story. The ACC does a solid job of producing NFL caliber safeties, especially from the state of Florida, and gives the ACC many options to choose from. Honorable Mention: Antrel Rolle, Brandon Meriweather, Adrian Wilson & Chris Hope

Kick Returner: Devin Hester Hester is the best around. Honorable Mention: Leon Washington

Kicker: Sebastian Janikowski He may be fat but he kicks a long way... Honorable Mention: Jeff Reed

Punter: Adam Podlesh He runs unopposed...
Posted by Simon at
1:52 PM
Labels: College Football, NFL
0 comments: