Friday, February 26, 2010
Blogging the Offseason worked so well for the MLB that I'm bringing it back for the NFL. You can find all the posts under the label Offseason or just go here.

Today's blogger is Michael Tunison, aka Christmas, made famous by both writing for KSK and getting fired due to this picture (dumbass Washington Post). He now gets paid to work in his underwear at the Sporting Blog.


1. When LaMarr Woodley busted out and said that everyone was going to lose to keep the Steelers out of the playoffs what did you think?
I thought it was a lame ploy on Woodley's part to try to pressure teams that didn't need to try into playing hard. Then again, Woodley was one of the few defensive starters who played better in the second half of the year, so I was willing to give him some leeway.

2. Was this season more or less frustrating than the 2006 season?
Less. The team, as much as they screwed up, didn't start 2-6. And they had some significant injuries to account for some of the screwups, which wasn't as much the case in '06.

3. What do you think the biggest problem with the Steelers this season? Is it simple enough to say Polamalu was out and without him the defense went down hill?
Polamalu is a significant absence. A lot of the blitz packages are predicated on what he can do. At the same time, James Farrior looked old playing with added weight and William Gay struggled in his first year as a starter. There were obviously deficiencies that had little to do with Troy.

4. With the #18 draft pick what do you think the Steelers will target?
Most likely either a cornerback, offensive lineman or free safety, depending on which option has the best player available.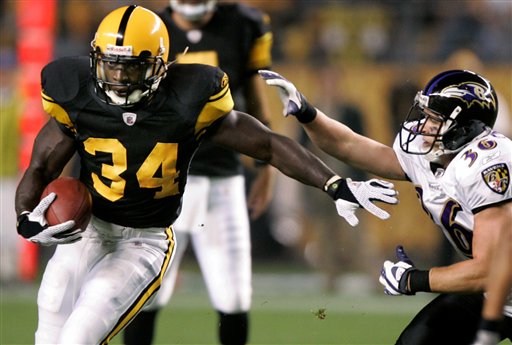 5. Will Fast Willie even be on the roster next season? The Steelers seemingly stopped using him this year in favor of Mendenhall.
Parker is almost certainly gone. He was used sparingly after Mendenhall got the starting role, and understandably so. Rashard was a lot better. Mewelde Moore is a very good third down back and doesn't get anywhere nearly as much credit as he deserves.

6. At 33 Hines Ward still had 95 catches this season. How many more years do you think he has in him?
I think he has another two years as a starter left in him. Beyond that, he might stick around for another season or two in a minor role.

7. Do you prefer throw the ball 20 times or throw the ball 40+ times Roethlisberger? Do the Steelers continue to be a pass first team next year?
They kept the same offensive coordinator, so, yes, I would assume they will still be primarily a passing team next year. Between Santonio, Hines, Mike Wallace and Heath Miller, they have a very good receiving corps to assist Roethlisberger. The running game improved last year over 2007 but it'd be a stretch to think the offense could return to the grinding days of yore without drastic changes.

8. The Steelers will beat the Bengals ____ time(s) next year by a combined ___ points.
Two. 23.

9. Who wins a sword fight between Santonio Holmes and Greg Oden?
I actually asked Santonio about his picture in Miami and he claimed ignorance, so I suppose Oden wins for acknowledging that the sword fight exists.

10. The Steelers get #7 in ____.
Due time.
0 comments: