Monday, February 01, 2010
Blogging the Offseason worked so well for the MLB that I'm bringing it back for the NFL. You can find all the posts under the label Offseason or just go here.

Today's blogger is Fooch from the San Francisco 49ers blog, Niners Nation.


1. Do you think the bust label on Alex Smith has been dropped too early? Do you think he is the Niners 2010 quarterback? Will he succeed?
Smith will be the 49ers QB to start 2010 and I think he'll last the entire season. If the 49ers can put him in a position to succeed (basically meaning a better offensive line in front of him), I think Alex Smith could very well be a successful quarterback. I don't think he'll ever be a superstar in the NFL, but he could be good enough to not take away from a potential championship team. As far as the bust label is considered, it's really hard to even say he was a bust up until now. He struggled his rookie year and showed solid improvement (from awful to not so awful) his second season. Then he went down with a shoulder injury in his third season and missed all of what would have been his fourth season, before coming back midway through what was his 5th season in 2009. I would not say he was a bust to that point, but he definitely has to take major strides in 2010.

2. The 49ers draft slot is subject to a coin flip. What lucky charms will you be wearing that day, and don't you think whomever calls tails will win?
Tails never fails. I'm working on some Niners Nation merchandise, so I think it's safe to say we'll go with that, and maybe my Joe Montana jersey.

3. Regardless of what selection you get (16 or 17) whom should the 49ers target in the first round? What is their biggest need?
The 49ers need an offensive lineman or two. People are questioning whether it would be a reach to go right tackle that high, but if you really like a guy, you might as well get him while you can. Or conceivably trade down so you're not overpaying, if that's a concern. C.J. Spiller has caused a ton of discussion at Niners Nation because of his dynamic abilities as a kick returner, and the fact that he could be an intriguing option in the rushing game behind Gore. But I also think a safety is necessary. Michael Lewis suffered 3 concussions last season and is probably on the wrong side of his career. He's been very solid, but the time might have arrived to find his replacement.

4. After the first round, what are the other needs you hope the 49ers will fill? Any late round targets you're hoping the Niners land?
I think they need at least 2 offensive linemen out of this draft, that being an offensive tackle and a guard. They could probably use another young cornerback since Dre Bly is running out of gas, Nate Clements is probably going to be a 49er for at most another year or two, and they still don't know if Tarell Brown is a long term answer. Beyond that, I'd imagine they could maybe go for a pass rushing outside linebacker to push their guys in camp. They could also probably use another receiver for depth. Depending on their thoughts on Nate Davis they could go QB later in the draft. One option is to draft a young QB, potentially cut Shaun Hill, promote Nate Davis to the backup position and have the new rookie in at emergency. I probably wouldn't do that, but it's certainly an option.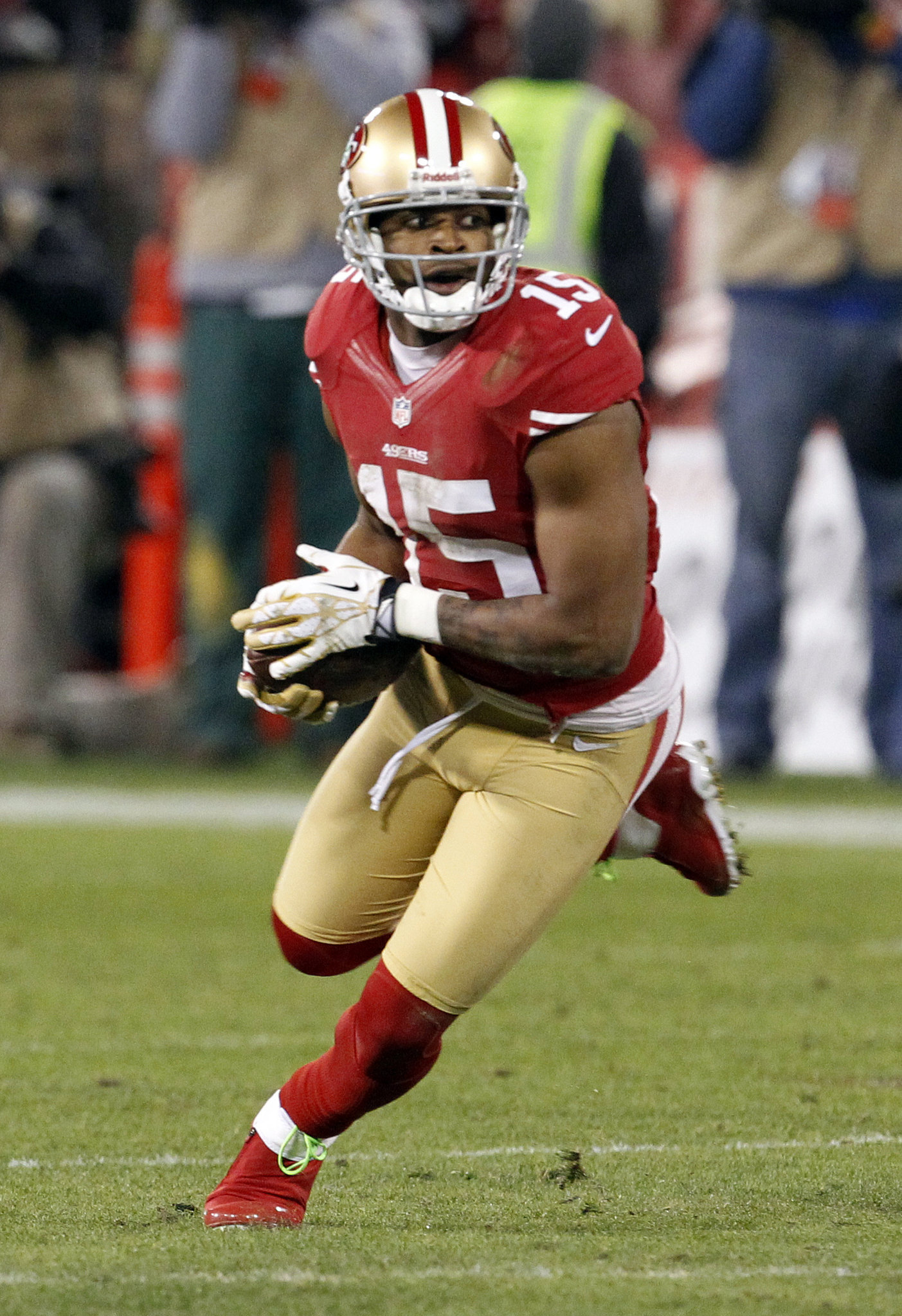 5. Michael Crabtree held out for a lengthy period but when he was on the field he did make a decent impact. Do you think he's going to become a superstar? When would you predict his first pro bowl appearance to be?
He made a big impact as you could see he had "all the right moves" if you will. He just looks like a good receiver when he's running routes and running with the ball after the catch. I think he' got superstar written all over him. As far as a Pro Bowl appearance, I wouldn't be shocked by one in his upcoming second season, but more realistically, we'll say his third season.

6. The Niners basically have nobody on their roster entering free agency. Do you think there will be any players the 49ers release as a salary casualty in the offseason due to roster bonuses or other reasons?
The 49ers have a couple restricted free agents in OG David Baas and OLB Ahmad Brooks, but I think they'll both be back. Nate Clements is the biggest name that could potentially be a cap casualty. He signed a fairly sizable deal and was benched midway through 2009 before an injury on a punt return put him on the IR. Clements may end up having to renegotiate his deal if he wants to stick around. And depending on what happens in the draft, Michael Lewis could find himself on the financial cut bubble.

7. The 49ers have had great success over the Cardinals the past few seasons, does it get frustrating sweeping the team that wins the division?
The series with Arizona has gone back and forth as Arizona actually swept SF in 2008. It certainly is annoying to finish 5-1 in the division and sweep the champs, but it also tells the 49ers they clearly have more to do if they want to step and be a playoff team. The NFC West is not exactly a great division and this shows that. With Kurt Warner retiring, the division as a whole will continue to be considered the weakest in the league.

8. Vernon Davis finally had his break through year. What was the biggest difference between 09 and previous years? Is the sky the limit in the future or is this the best we're going to get?
He's finally got his head on straight and realizes football is a team game. He's always had the talent to be great and now he's finally showing how great he can be. If Alex Smith could establish some consistency at the QB position, the sky is the limit for Vernon. The only real limit is losing catches to the budding wide receivers, but he'll still manage big numbers. He's a monster red zone threat and I don't see him slowing down anytime soon.

9. What is your overall impression of Mike Singletary? Do you think he has what it takes to be an elite NFL Coach?
Mike Singletary is a great man and can handle the personality issues that arise over the course of a 16 week season. At the same time, he does have some weaknesses, particularly in the area of game management. In one game the 49ers used up all 3 first half timeouts within about 5 minutes of the start of the game. I think that's one area that will come with time. He was always considered a brilliant linebacker in his playing days. I think with time he could certainly develop into an elite coach, but it will take some time. One of his strong suits is his emotion, but that can also be a bit of a weakness at times. He needs to learn how to harness that emotion. Not to stop being emotional, but rather to know when it's necessary and when it's not.

10. The 49ers will be back in the Super Bowl in ___.
I'll go with 2011. This offseason heading into the 2010 season is a big one and hopefully the team will beef up the offensive line. If they can make the playoffs in 2010, I could see them taking that next big step in 2011. Of course, a lot of that is dependent on Alex Smith actually becoming a legit NFL quarterback. If he can do that, I'm gonna go with 2011.
0 comments: