Thursday, January 14, 2010
Blogging the Offseason worked so well for the MLB that I'm bringing it back for the NFL. You can find all the posts under the label Offseason or just go here.

Our first blogger is TheRaiderWay from the Oakland Raiders blog, Silver and Black Pride.


1. How eagerly are you awaiting the time when Al Davis is no longer in the front office to make executive decisions?
This is a question that comes up often and my answer is the same. Al Davis is the Raiders and I'm not looking forward to him not making executive decisions, but rather looking forward to the day that he brings on a GM-type person to help him. The last time the Raiders were winning was when they had Bruce Allen as that GM-type person as a facilitator between Al and the rest of the organization's departments. Before Allen, they had Ron Wolf, which was during times of consistent success. The Raiders organization needs now unity with the single purpose and goal of winning.

2. What are your thoughts on JaMarcus Russell? Will he ever live up to his potential or will he always be looked at as a lazy underachiever?
Well, my thoughts are still a bit reserved, if only because of his age and lack of "adult maturity" Millions of dollars were put on him at the young age of someone who never had anything close to that kind of money. Until this year, Vince Young was also written off as a bust and he turned it around because he grew up and understood and accepted what it meant to be an NFL QB. That being said, until I see significant if not dramatic progress in his off season workouts and development, then I give him about a 20 % chance of reaching his potential.

3. Is your quarterback in 2010 Russell? If not is it a draft pick? Is it Michael Vick? Whom is the Raiders QB?
Regardless of who, the Raiders will certainly have an open competition for the starting job. As of now, I would say that Bruce Gradkowski is the leading candidate for the job. Then depending on who they may go after in free agency, there will still be Charlie Frye, J.P. Losman and Russell to battle it out. I don't believe they will go after Vick.

4. The Raiders have the 8th pick in the NFL draft this year. Whom do you want? And how upset will you be when they just draft whomever had the best 40 time at the combine.
Right now the Raiders have many needs, but none more obvious than stopping the run. Many think that the problem is with the defensive line, but in reality it is the linebacker that are the problem and specifically MLB. I hope we draft Rolando McClain from Bama, but if the speed thing comes into play then it wouldn't surprise me if the pick was Joe Haden, which in reality would be o.k.

5. Speaking of 40 times... Do you think Heyward-Bey will amount to anything more than James Jett as a pro or can we already stamp bust on his forehead?
DHB, unlike Russell has a strong work ethic and is determined to fix his issues. He is young and raw and we all knew this coming in that he would take time to develop. I don't expect James Jett and I do expect to see significant improvement from him by camp.

6. Will the Raiders finally decide which running back to give the ball to next season? The three-way time share between McFadden, Bush and Fargas is getting old. Whom should get the most carries?
Fargas will be fading out, if he even make the roster by September. If whoever ends up as coach, hopefully they will have a better understanding of how to properly utilize McFadden, which is not between the tackles. Bush is a power runner and should get the bulk of the carries.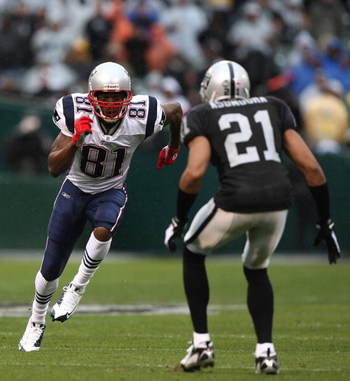 7. What would the Raiders need to get for Nnamdi Asomugha in order for you to be ok with the deal?
I would rather us just keep him, but if we got an offer of 2 first rounder's or a first round pick and a young rising player, I might be inclined.

8. What do you think about Tom Cable? Should he be given a chance in 2010 or should the Raiders move on?
I think the Raiders should move on depending on who they would get to replace him. If he stays, then an offensive coordinator who calls all the plays will be mandatory.

9. Give me 3 Raiders that I probably don't know about that had a solid 2009 season that you expect big things from in 2010.
Tyvon Branch, Matt Shaughnessy and Louis Murphy.

10. The Raiders will win the AFC West in ________.
2011. I have to answer that as a fan because the reality is that it's impossible to answer as too much needs to happen and too much could happen with the team either way.
0 comments: