Friday, December 11, 2009
Blogging the Offseason is a 30 team series in which I ask a blogging representative from each MLB team a series of ten questions about their desires and thoughts surrounding the offseason. Check out all of them here.

Today is World Series day and first up is the Philadelphia Phillies. Our guest is Meech from the Phillies Blog, The Fightins.


1. From a Yankee fans perspective, the biggest difference in the series was Cole Hamels 09 vs. Cole Hamels 08. What went wrong this year? What were Phillie fans reaction to his statements after Game 3? And finally what do you expect from him in 2010?
Well, you Yankee fans are very observant.

Cole Hamels' performance during the 2008 playoffs was one of the greatest stretches a pitcher has ever been on during the most crucial time of the year in the history of baseball. Ever. So naturally, most people just figured he would start this year like he finished the last, go on to win 20-some odd games, and bring home his first Cy Young. But in'09, Cole's velocity was waaay down -- from about 94-96 mph in 2008 to 89-91 mph -- and that, in turn, mades his change-up less effective. When his change-up is less effective, the batter can continually foul off low 90's fastballs and just sit on the change. Eventually, because he threw a ton of pitches, he would make a couple mistakes with his location and get tagged.

No one really *liked* his statements, but Cole is a pretty strange dude that nobody takes too seriously. I'm hoping he can bounce back next year and have a solid year starting behind Cliff Lee (and hopefully Roy Halladay), but I won't know what to expect until he starts throwing again.

2. Jimmy Rollins average, OBP, SLG, OPS, etc. etc. took a drastic dip in 2009. Why do you think that happened? Will he bounce back in 2010, regress more, or repeat his 09 numbers?
Jimmy had a most shiteous start to the season, which actually led him to getting benched for 4 games during interleague play. I think he had like a .211 avg at that point, too. I dunno, he swings early in the count too many times for my liking, and I really don't think he should be a leadoff hitter, but I doubt he'll get bumped from the #1 spot.

I'd imagine his offensive numbers are gonna be about the same, if not slightly higher than they were a year ago, and his defense will continue to be superb.

3. The Phillies signed Placido Polanco to a three year 18$ million dollar deal. Is this a major upgrade like Ibanez was over Burrell last year? Where will Polanco fit in the lineup?
I wouldn't go so far as to say it's a major upgrade, howsabout we go with significant? Pedro Feliz was a serviceable third baseman with a half-decent stick who you could toss in the seven-hole and forget about. Polanco is a textbook #2 hitter who doesn't strike out and knows how to move runners. He hasn't played much third base in his career, but I think he's a good enough fielder to make the smooth transition.

The only problem I see arising is when somebody tells Shane Victorino he's getting bumped down five spots in the lineup. I think Rollins would be better suited batting sixth (pushing Ibanez to seventh) while make Shane your leadoff man, but I'm an idiot blogger -- what the hell do I know?

4. Is Brad Lidge the Phillies opening day closer? Will they bring in someone as a backup option or will that guy continue to be Ryan Madson?
All I can hear is Charlie Manuel's voice saying, "Brad Lidge is still our closer."

The fact of the matter is, the Phillies have a lot of money invested in him ($23 mil guaranteed over the next two years) and they have no choice but to toss him out there and pray that he's effective.

So yeah, barring injury, Brad Lidge is the Phillies opening day closer.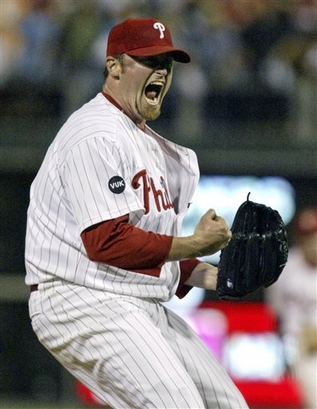 5. What is the typical Phillies fans thoughts on Brett Myers no longer being a member of the franchise?
I don't know about the typical fan, but I can tell you that *I'll* sure as hell miss him.

Regardless of your personal feeling towards Brett, as a Phillies fan, I enjoyed his time here as a pitcher. Myers was with the Phillies when they absolutely sucked, and when you see a guy like that -- someone who you can tell appreciates the winning -- still around when they win it all, you're happier for that guy than you are some of the others. I went through the same thing when Burrell left last year.

Maybe it's for the best, but I still think that Brett could help the Phillies in some capacity next year, and wouldn't cost an exorbitant amount. But that ain't happening. So I'll be forced to follow him when Ed Wade eventually signs him in Houston.

6. The top 4 Phillies starters look to be in place for 2010 (Lee, Hamels, Happ, Blanton), with Brett Myers now gone who will be that 5th guy? Jamie Moyer, a free agent, or a prospect?
I think if Jamie Moyer is healthy, he'll get a spot in the rotation to start the year. Granted, the man pitched horribly last year, but he did give us 162 innings, and with this offense, you don't have to be a shutdown pitcher to be effective.

However, I can't remember a year in which the five gentlemen who started the season as the Phillies starters actually finished it that way. So, not to dodge the question, but it's pretty pointless to guess.

7. Will the Phillies extend Cliff Lee this offseason or is he a likely 2010 offseason free agent?
If Cliff Lee is looking for a HUGE payday, he's better off testing the free agent market after the year. I've already come to the conclusion that he'll be a Yankee in 2011, so I'm just gonna enjoy every minute of him while he's a Philadelphia Phillie.

8. Which Phillies prospect are you most looking forward to in 2010 and beyond?
Domonic Brown. I tend to acquire crushes on certain minor-leaguers, and right now, my crush is definitely Lil' Darryl Strawberry. (that's my pet name for him!)

He's got such a sweet left-handed swing and plays a mean right field. I think he'll get the full-time gig when Jayson Werth's contract expires after next year and some team throws him a shitload of money. I'm eagerly awaiting his arrival.

9. I'm giving you the option to cut players without any salary repercussions, which Phillies do you part way with?
So long, Brad Lidge! Thanks for 2008!

10. Final Question, you've got a crystal ball, the Phillies will win the World Series in ________.
Twenty-ten.
Posted by Simon at
10:00 AM
Labels: Blogger World, MLB, Offseason
0 comments: