Monday, December 14, 2009
It's the end of the decade. So it's time for some lists. Today's list is the Worst NFL Teams of the past decade.


11. 2005 Houston Texans, 2-14:Of course a mittens lead team was going to be on this list. The Texans had two seasons in which David Carr was battered and beaten mercilessly. In 2002 the Texans went 4-12 and Carr was sacked 76 times. In 2005 the Texans went 2-14 and Carr was sacked 68 times. They also gave up a league worst 431 points.

10. 2001 Detroit Lions, 2-14: The Lions predictably are on this list more than once. In 2001 the 2-14 Lions won 1 game by a field goal over the 5-11 Vikings and won the final game of the season by 5 over the 5-11 Cowboys. The 01 Lions enjoyed three different starting quarterbacks Ty Detmer, Charlie Batch and Mike McMahon. They were all terrible.

9. 2002 Cincinnati Bengals, 2-14:The Bungles of 2002 had a decent offense and an absolutely atrocious defense. In one of their two wins they gave up just three points. In the other 15 games of the season the Bengals gave up 453 or just over 30 points per game.


8. 2006 Oakland Raiders, 2-14: These were the Andrew Walter Raiders of glory. Walter somehow had a 2-6 record as a starter despite throwing 3 touchdowns in comparison to 13 interceptions. This squad also gets the bonus of being so bad at quarterback that it convinced them to draft JaMarcus Russell and doom their franchise for several more seasons.

7. 2007 Miami Dolphins, 1-15: The 2007 Miami Dolphin season was all about finding a way to lose football games. They were very very good at their craft. The Dolphins lost 6 games by a field goal. One of those games was a 3-0 defeat on monday night football to the Steelers. Trent Green was the original starting QB before he was concussed into retirement. The Dolphins then turned the reins to John Beck, who was god awful. Finally it was Cleo Lemons team. Cam Cameron was so bad the Dolphins didn't even bother to let him coach two years. Ugh. The next year they get Pennington make a few changes and the team goes 11-5, what a difference a competent QB and coach can do.

6. 2000 Cleveland Browns, 3-13: The Browns picked up 3 wins which puts them ahead of several teams I have ranked better than them. Why? The 2000 Browns have the worst point differential of any team in the past decade, yes including the winless Lions. Their final point differential is -258 or essentially they averaged losing each game by 16 points. Their QB was Tim Couch. Their enitre offense barely rushed for 1000 yards. They scored just 161 points while giving up 419. They were dreadful.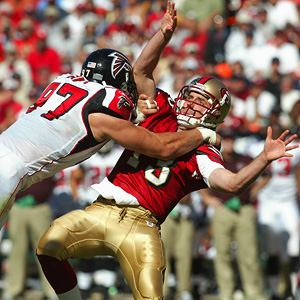 5. 2004 San Francisco 49ers, 2-14: If not for the 2004 Cardinals the 49ers just might have topped this list. The 49ers two wins both came against the 5-11 Cardinals. Outside of them the 49ers were winless bunch. They were QBed by Tim Rattay and Ken Dorsey and their leading back was Kevan Barlow. This season inspired the drafting of Alex Smith. It was a bad calendar year.

4. 2009 St. Louis Rams, 1-11: Really it was a tossup between the 2008 version and the 2009 version, but the 09 version is the victors thanks to this: "QB Keith Null, a former protege of legendary NFL bust Ryan Leaf when he was quarterbacks coach at West Texas A&M, started out 7 of 8 but has gone 1 of 6 since. Tennessee is currently outgaining St. Louis 132 to 47 in passing yards." Keith Null started a football game.

3. 2001 Carolina Panthers, 1-15: The 2001 Panther season started off with a bang, a victory over the Minnesota Vikings who finished 2000 with an 11-5 record. After week 1, the season kind of went downhill. And really why wouldn't it have, their quarterback was Chris Weinke and their lead rusher was Richard Huntley.

2. 2000 San Diego Chargers, 1-15: This team was Quarterbacked by Ryan Leaf. Their lead running back was Jermaine Fazande, who? Their lead receiver was Jeff Graham, who? They won one game on the season and that came by 1 point after a 52 yard John Carney Field Goal. Again they're quarterback was Ryan Leaf.


1. 2008 Detroit Lions, 0-16: Not only did this team go winless but they were outscored by 247 points on the season. Their quarterback ran out of the back of the endzone untouched and oblivious to what was going on. They were the laughing stock of the league by a large margin even with several other dreadful teams being not that far behind them.

Runners Up: 2003 Arizona Cardinals 4-12, 2008 St. Louis Rams 2-14, 2009 Cleveland Browns 2-11, 2008 Kansas City Chiefs 2-14, 2009 Tampa Bay Bucs 1-12

2 comments:
12:22 PM
1:26 AM