Wednesday, December 02, 2009
It's the end of the decade. So it's time for some lists. Today's list is the Worst NFL Draft Picks of the past decade.


11. Darrius Heyward-Bey, #7, 2009: It's probably way too early to declare Heyward-Bey a bust but given the Raiders track record, it's certainly not out of the realm of possibility. Through 11 games Heyward-Bey has just 9 receptions. Meanwhile, Michael Crabtree the receiver they chose Darrius over has 26 catches in just 6 games.

10. Adam Jones, #6 2005, Titans: This draft pick isn't so bad on a bust level as it was on a headache level. The Titans took the talented Pacman with the 6th pick in the draft despite his very very shady history at West Virginia. Two years later Pacman was getting suspended from the league never to see a down again in a Titans uniform.

9. Vernon Gholston, #6 2008, Jets: Gholston was a work out warrior with a body of steal. Through two seasons he's played more like a body builder than a football player. He's amassed a whopping 24 tackles through his first two seasons.

8. Johnathan Sullivan, #6 2003, Saints: You're saying to yourself "Johnathan who?". Exactly. He played three seasons with the Saints and was mostly a non-impact before he was dumped off to the Pats.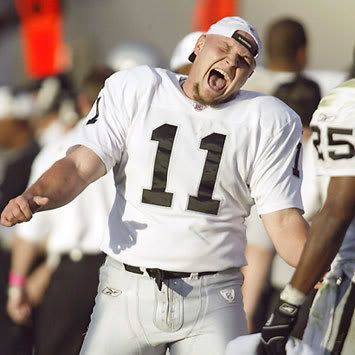 7. Sebastian Janikowski, #17 2000, Raiders: Janikowski is a kicker. Kicker's are never worth a 1st round pick ever. Even if Janikowski has been a better than average kicker in the league for a decade the pick was just dumb. The following two picks in the draft were Chad Pennington and Shaun Alexander, both likely better values.

6. Troy Williamson, #7 2005, Vikings: Troy Williamson was supposed to be the speed demon that replaced Randy Moss, whoops. He had the speed, but not the hands which is an essential part of being a wide receiver. The Vikings traded him off 3 years later for a 6th round pick.

5. Mike Williams, #10 2005, Lions: Remember when Mel Kiper said that Mike Williams was the best player in the 2005 draft? Whoops. He ate one too many donuts in his year off while protesting the NFL's age limit and found himself essentially useless to all NFL teams. He played just two seasons with the Lions before getting bounced to Oakland.

Let's enter quarterback row...

4. Joey Harrington, #3 2002, Lions: Joey Harrington spent four seasons in Detroit. In each of those 4 seasons the Lions lost at least 10 games and he had just one where he threw more touchdowns than interceptions.

3. JaMarcus Russell, #1, 2007, Raiders: He's overweight and he's reportedly very very lazy. Now that's the kind of guy you want to spend your #1 draft pick on. When you get benched for Bruce Gradkowski, you know you're a bust.


2. Alex Smith, #1 2005, 49ers: Remember when the epic debate of the draft was whether the 49ers were going to go with Aaron Rodgers or Alex Smith. In reality the choice should have been neither considering nobody else wanted a Quarterback til pick 24 and they likely could have traded into the round for either. But I guess it could have been worse they could have picked...

1. Charles Rogers, #2 2003, Lions: For my money Charles Rogers is the worst pick of the decade. Through three seasons with the Lions he played just 15 games. After breaking his collarbone he morphed into a stoner who would show up to practices high and was continual suspended by the league for testing positive. Eventually the Lions and the League gave up on him.

Honorable Mention: Robert Gallery only because everyone drafted after him made the Pro Bowl. DeWayne Robertson whom the Jets gave up way to much to get. Gerard Warren never made a huge impact with the Browns. David Carr was a complete waste at the #1 pick but nobody could have played with that line. Gaines Adams was a complete waste for the Bucs.
3 comments:
8:58 PM
8:43 AM
2:21 AM